Skip to Content
Patriot's Corporate Safety Manager, Kyle Bauer, Obtains OSHA 511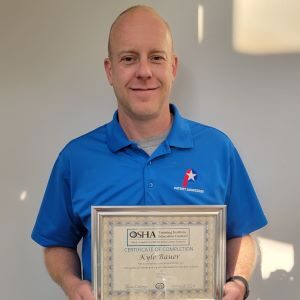 Patriot's Corporate Safety Manager, Kyle Bauer, ASP, recently completed the OSHA 511 Occupational Safety and Health Standards for General Industry.  This certification allows Patriot to offer a broader range of services related to the needs of the General Industry, including the ability to identify hazards, locate and determine policies, procedures, and audit/inspect resources adhering to OSHA General Industry 1910 regulations.
Kyle is a certified Associate Safety Professional (ASP) with a B.S. in Occupational Safety and Health and 20+ years of experience in the construction and engineering industries. Along with the OSHA 511, Kyle holds several additional registrations/certifications, including:
Certified Occupational Safety Specialist
HAZWOPER 40
OSHA 502
OSHA 510
OSHA 500
First Aid/CPR/AED/Blood Borne Pathogen
Aerial Lift Operator
Competent Person Trainer
NCCER Trainer
Associate Safety Professional ASP
Kyle is an OSHA outreach instructor and is a passionate ambassador for safety which is reflected in the training and certification classes he leads to provide Patriot employees and clients with the most up-to-date safety information and resources.
Congratulations, Kyle!
Reduce Costs, Decrease Risks, and Improve Outcomes