Skip to Content
Experience You Can Count On
Patriot Engineering and Environmental, LLC encompasses Patriot's Drilling Operations. With services spanning across Indiana, Ohio, Kentucky, and beyond, Patriot's Drilling team of professionals has over 85+ years of combined drilling experience to service your Geotechnical and Environmental drilling needs. Our staff has worked on notable sites including U.S. Military installations, U.S. EPA sites, refineries, LUST, RCRA, CERCLA, and TSCA sites.
Patriot Drilling Services – The experience and equipment you need to get the job done.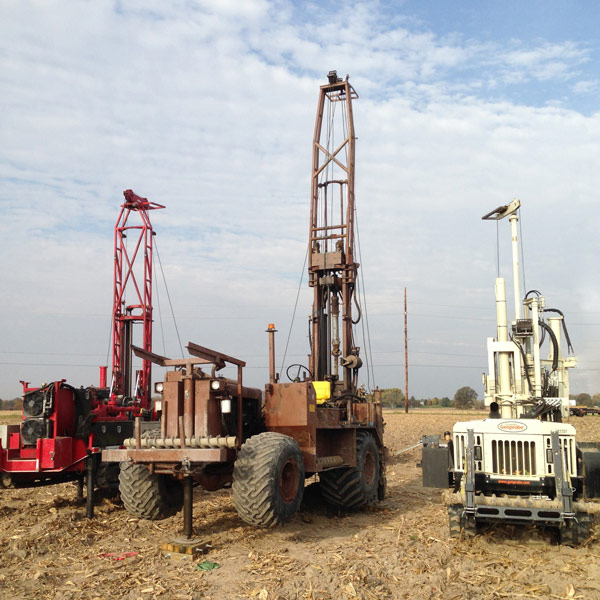 Equipped for Your Project Needs
Patriot's Drilling Operations include a collection of all-terrain rigs such as the Mobile B-45, CME 750X, two (2) Mobile B-57s, CME 550X, Geoprobe 7822DT, and road coring rig Simpco 255 PTC. This investment in equipment allows our drilling staff the flexibility to respond to our client's needs and schedules, and the versatility to take advantage of site and weather conditions across our multi-state operation. Patriot assesses current site conditions to bring the equipment suitable for maximum site access. Patriot's geoprobe, for example, has smaller dimensions and can access more low-clearance and restrictive areas, such as interior courtyards and building interiors.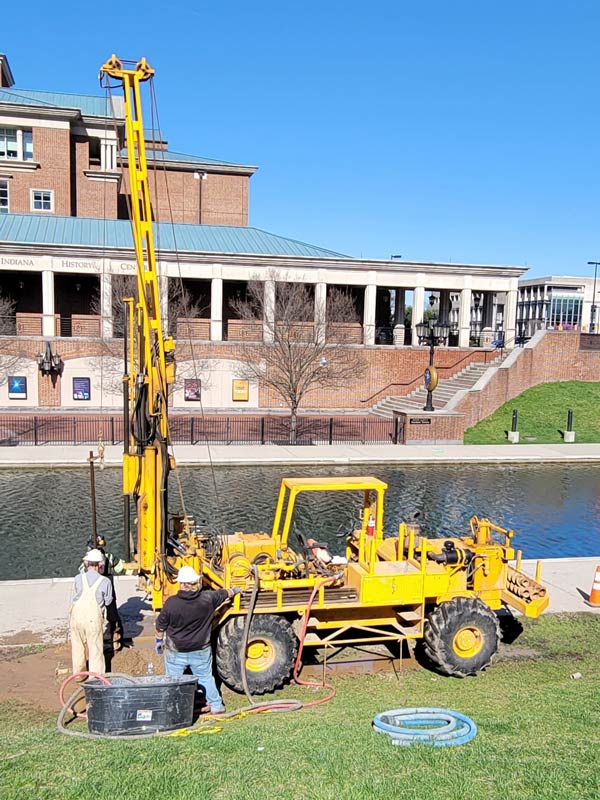 Our Drilling Services
Geotechnical Drilling and Sampling
Geoprobe® Direct Push Drilling for Soil and Groundwater Sampling
Low Clearance and Interior Drilling Capabilities
Hollow-Stem Auger Installation of Monitoring, Extraction, Recovery, and Injection Wells
Geoprobe® Direct Push Pre-packed Monitoring Well Installation
Geoprobe® Soil Vapor Implant and Post Run Tubing (PRT®) Installation for Soil Gas Sampling
In-Situ Injection
Well Abandonment
Sampling and Rock Coring
On and Off-Road Drilling
Barge Drilling
Low Clearance Drilling
Installation of Inclinometers
Installation of Stand-pipe Piezometers and Vibrating Wire Piezometers (VWPs)
Specialized field testing such as Field Percolation Testing, Pressuremeter Testing, Pump Testing, Slug Testing, etc.
Concrete and Asphalt Coring
Experience You Can Count On for Your Drilling Needs
Patriot has a proven track record of delivering exceptional service and expertise. Need solutions? Patriot's team of highly-skilled drilling professionals will come alongside you to provide peace of mind for the needs of your specific project. We will work with you to ensure the results you need on time and within budget. Patriot has you covered.
Patriot – Delivering Quality And Service, Every Project, Every Time.
Reduce Costs, Decrease Risks, and Improve Outcomes