Skip to Content
Patriot Welcomes new Business Development Manager in Ohio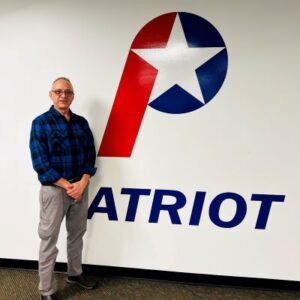 We're thrilled to introduce Perry Surber as the latest addition to the Patriot team. Perry joins us as the Business Development Manager for the Ohio Region, bringing a lifetime of construction experience and deep passion for the industry.
Perry's journey began in the construction world, growing up as the son of a General Contractor. He spent his early days on job sites, learning the trade from the ground up. Perry's career includes 25 years of hands-on work in roles ranging from carpenter to Superintendent for a Multi-family development.
In 1988, Perry shifted to Construction Sales, Sales Management and Business Development, gaining over 35 years of industry knowledge.  He's worked with major manufacturers and global engineering companies, solidifying his understanding of construction from all aspects.
Doug Zabonick, Patriot's President is excited to have Perry on the team. "Perry will bring a personalization to the Ohio market that will help us promote our Geotechnical, Construction Materials Testing and Environmental Consulting Services even further. He will be a great compliment to Patriot."
Perry is not only a seasoned pro, he's an Ohio native, parent of two University of Cincinnati students, and a devoted Cincinnati sports fan.  His teamwork mindset and dedication will make him a valuable addition to the Patriot team.
Reduce Costs, Decrease Risks, and Improve Outcomes