Skip to Content
Thank You to Our Interns!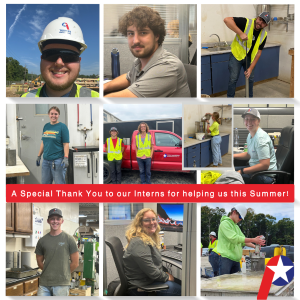 Time flies, doesn't it?  Another valuable season at Patriot Engineering has come with our internship program.  Patriot values our college-level students who are ready to learn with hands-on training that happened this summer.
Thank you to each one of our summer interns and their supervisors from our Indianapolis, Bloomington, Evansville, Fort Wayne, Lafayette and Louisville offices!  We're happy to share a glimpse of what they learned:
What I liked most about my internship was the number of different things I was able to do this summer. I gained experience in the lab on many different testing procedures to understand how information for reports was gathered. I went out into the field to stake projects and build my communication skills by interacting with clients and utility locators. I performed percolation tests for many different projects all over the state. Also, I was able to see the process of getting from proposals to reports the whole way through.
-Daphne Bush, Indianapolis Office
The best part about the internship was being able to interact with a variety of people within the field, such as representatives of clients, drillers, and utility locators, as well as seeing how everyone within a project plays their part. I've learned a lot about different geotechnical engineering procedures and testing and why these tests are needed on multiple projects. Also, I have enjoyed learning parts of project management such as examples of budgeting and how projects are packaged together to create a result that will satisfy clients.
-Darek Reuter, Indianapolis office
I learned more in these past few months than I have throughout my entire school career. I was challenged, but I enjoyed every second of it and learned so much. I love that I am doing work that makes an impact. Everyone is so supportive and helpful and has really made me feel like an important part of the team. This is the best internship opportunity I could've ever received, and I am extremely grateful.
-Sofia Petrone, Indianapolis office
My favorite part about my internship here at Patriot was learning and seeing how an engineering company functions and understanding the importance of everyone in the company.
-Brekken Allee, Indianapolis office
What I loved the most about this internship was learning about and understanding the behind the scenes of the inspection and testing process. Also being exposed to a large variety of trades was an amazing opportunity.
-Thomas Lowery, Indianapolis office
What I've liked best about my internship is that from day 1 I was welcomed with open arms by all areas of Patriot and have had great conversations with colleagues from all areas of the company. I really like that there's a strong sense of community within Patriot.
-Cassandra Steck, Indianapolis office
Some things that I've learned this summer is how to properly test concrete. Since I am a Mechanical Engineer Technology student, this internship has really expanded my knowledge about how the Civil Engineering world works. The best thing I've learned from my time at Patriot would be how to make professional connections with site managers, as I can translate this to my future career.
-Jayden Hunter, Indianapolis office
This summer, I have enjoyed being able to work so closely with my brother and mom as well as countless different people on our job sites, interacting with them and supervisors have been a rather rewarding experience in both knowledge and entertainment.
-Tristan Vincz, Bloomington office
This summer while working with Patriot, I was able to learn about a field that I knew very little about. On top of that, the technicians at the Fort Wayne branch were more than helpful with the learning process and were always willing to answer questions, or help when needed!
-Matthew Clady,  Fort Wayne office
Working at Patriot has been an amazing hands-on experience. I have enjoyed seeing the application of engineered solutions to real world problems. The critical thinking skills and general knowledge I have gained this summer will be invaluable to my education and future endeavors.
-Mackensie Hathaway, Fort Wayne office
My time with Patriot offered what I expected and more. Technical skill and experience can only go so far in the classroom. Each Patriot job site presented different situations, which made it more engaging and enjoyable to apply what I've learned with the company. I'm grateful for the new perspective I have into commercial and industrial foundational work, soil specifics, testing and calculation, and all that I was able to work on. It was more than a relief that what I was learning in school, was applied almost every day, and I was thrilled to have had outstanding leadership and nothing but support at Patriot.
-Norman Matyi, Lafayette office
I liked being able to see what goes on in the field while I do testing. It will give me a better understanding of my classes.
-Devin Bredonhoft, Lafayette office
The biggest thing I've learned is how to interact and communicate with people on a construction site.
-Gus Eilers, Louisville KY office
I have been given the most enjoyable real-work environment. I have been taught the literal foundation of every civil engineering project in the history of civil engineering. No project starts without earthwork or concrete and for that, I thank you.
-Owen King, Louisville KY office
Thank you to our interns!
Reduce Costs, Decrease Risks, and Improve Outcomes