Skip to Content
Patriot Announces Launch of New Website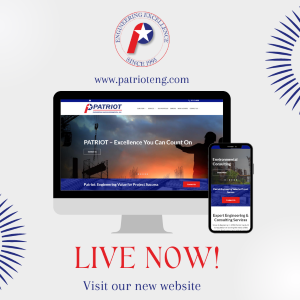 Patriot Engineering and Environmental, Inc. (Patriot) is excited to announce the launch of our new website! We partnered with the team at LocalIQ (special thanks to Karon, Tom, and their web design team!) to create an interactive and fully responsive website that communicates not only who Patriot is, but the difference that Patriot brings to its clients, partners, and the communities we serve. We hope that as you explore our new site, you find it easy to navigate, informative, engaging, and thoughtful about who we are, how we serve our clients, and the pride that goes into saying, "We are Patriot."
What's New?
Our refreshed website has been designed and developed with the end-user in mind. It showcases our story and answers the question, "Why Patriot?" We celebrate Patriot's strong foundation and look to the future toward accomplishing our shared values, vision, and goals. We pull back the curtain to give you a look inside Patriot's culture and mindset. We celebrate all that has made us Patriot and earned Patriot's standing as an industry leader. Throughout the new site, you will find language that is clear, concise and differentiates us from our competition, with interactive elements that allow you to engage with us and navigate the site. Our hope is to bring you on a fully responsive website journey, compatible with all devices and web browsers. A journey that will help inform your future project decisions to choose Patriot as your partner.
We realize that making a website better isn't just about making it look nice, but understanding and delivering what you, our customer, wants and needs in an easy-to-use format. We invite you to come explore the Patriot difference – our core values, our projects, our culture– hoping that you will enjoy taking part in the journey that has made Patriot who we are today while exploring our vision that beacons us forward. And we hope that you'll keep coming back to the site, to "opt in" on the latest information through blogs, announcements and AEC industry news that keeps you up to date and in the know. As Douglas Zabonick, P.E., Patriot's President, said about our new website, "This is our time to tell Patriot's story. To remind our clients of who Patriot is today, and our vision for the future. We hope that our story will inspire future clients to choose Patriot, knowing that they are choosing a partner in their work who strives for excellence and brings solutions to the problems of the day. To our current clients, we thank you for the journey that helped make us who we are today. We are grateful for your support and look forward to earning our worth on every future project. Thank you for allowing us to do what we love in the service of those who love what we do."
Celebrate with us!
As we celebrate the birth of our new site, please join us in this celebration! Over the next week, we will be having a raffle drawing every day. For a chance to win a gift card or prizes, visit our site at www.patrioteng.com and send us a message through the "Contact Us" page! All you have to do to be entered to win is fill in your name, company and email address – feel free to add any comments – then submit. Winners will be drawn daily and will be contacted and posted on social media.
Entry/giveaway will run from Friday, August 12th at 10am through Friday, August 19th at 5pm. You only need to enter once- your name will stay in the drawing throughout the duration. Prizes will vary and will be sent via mail to recipients address. Must be located in the United States to win.
Reduce Costs, Decrease Risks, and Improve Outcomes