Skip to Content
JW Marriott Hotel Complex
Indianapolis, Indiana
The JW Marriott Hotel Complex plays an important role in the business, sporting events, special events, and tourism industries in Indianapolis. The complex consists of the JW Marriott Hotel, Springhill Suites, Courtyard by Marriot, and Fairfield Inn in downtown Indianapolis. The anchor of the complex is the 34-story JW Marriott Hotel which boasts 1,005 guest rooms, a 40,500 square-foot (sf) ballroom, a 20,700 sf junior ballroom, 31 meeting rooms, and a three-story underground parking garage. The adjacent Springhill Suites and Courtyard by Marriot occupy opposite wings of a 14-story tower. The existing Fairfield Inn was refurbished as part of the overall project.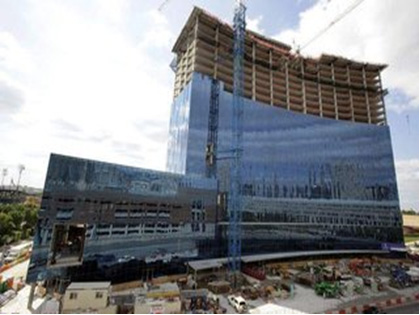 Construction Materials Testing & Engineering
Patriot was selected to provide construction materials testing and engineering throughout the construction of the complex. The JW Marriott's post-tensioned concrete framed tower sits atop a 7000-cubic-yard mat foundation. The Springhill Suites/Courtyard tower, also post-tensioned concrete framed, sits atop an auger-cast pile deep foundation system. Relying on our hard-working, experienced field technicians, Patriot was able to service the three large construction projects with just three full-time technicians at peak demand. This provided significant savings to the client when compared to more traditional large-project service methods involving field supervisors directing less experienced technicians.
Patriot's Responsibilities Included:
Auger-cast pile observation
Footing excavation observation
Reinforcement steel observation
Concrete testing
Post-tensioned concrete observation
In-situ concrete temperature monitoring
Soil compaction testing
Structural steel weld inspection
High-strength bolting inspection
Anchor pullout testing
Floor flatness and levelness evaluation
Panelized and field-applied EIFS observation
Masonry observations
Patriot's work was instrumental in achieving ahead-of-schedule construction of the structural components for all three buildings. Since 2008, millions of people have been able to enjoy downtown Indianapolis events just a short walk from their outstanding lodgings at the JW Marriot Hotel Complex.
Reduce Costs, Decrease Risks, and Improve Outcomes