Skip to Content
Evansville, Indiana
The Ford Center Arena in Evansville, Indiana, with its 11,000-seat capacity, has become an important regional hub for large events such as sports, concerts, exhibitions, and more. During the design phase for the new facility, the owner and design team selected Patriot as the geotechnical and construction materials engineering firm for the project. Patriot completed a pre-construction geotechnical investigation and risk assessment of the property to fully characterize the subsurface. Patriot also performed pile load tests using strain gauges to confirm that the pile design load can be adequately supported. The design team used the investigation and test findings, along with Patriot's recommendations, to fine-tune the Arena design which provided significant cost savings to the owner. The pile load test data enabled a substantial reduction in construction costs.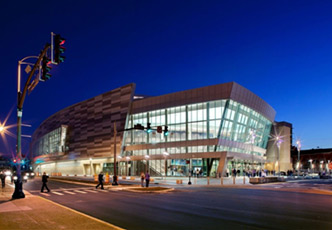 Arena Construction Began in Late 2009
Patriot continued to support the project with construction materials testing and inspection services. Throughout the two-year construction phase, Patriot tested and inspected essential materials including auger cast piles, concrete, reinforcing steel, fire stopping, and field density of soils at distinct location at the site.
The $127.5M Ford Center Arena opened in late 2011. Since then, it has been busy serving southwest Indiana residents, businesses, and visitors. Patriot is proud to have been an integral part of making the Arena a jewel in Evansville's crown.
Reduce Costs, Decrease Risks, and Improve Outcomes