Skip to Content
Eli Lilly Research Buildings 360/361/362
Indianapolis, Indiana
In 2002, Eli Lilly and Company began expansion of its biotechnology research and development complex in Indianapolis. The expansion consisted of three large buildings for biopharmaceutical research, pilot-scale manufacturing, and office space. "The first phase (K360) included a 250,000 sq. ft. state-of-the-art bioproduct pilot manufacturing plant.  The second phase (K361) was a 10,000 sq. ft. research support facility that houses support staff members.  Together, K360 and K361 are home to nearly 300 scientists and support staff.  The Bioproduct Research and Development Laboratory (known as K362) has become Lilly's headquarters for biotechnology research and development.  The 475,000 sq ft, 4-story laboratory is home to nearly 500 scientists (add "s") and research support staff conducting cutting-edge research in molecular and cell biology, analytical science, and engineering.  ("Lilly Completes Final Phase of Its Indianapolis Biotechnology Complex", Investor.Lilly.com, May 12, 2008)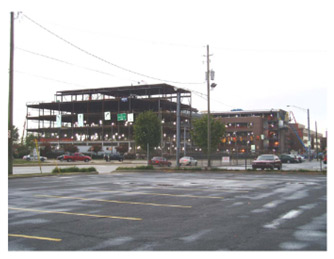 Materials, Testing, & Engineering
Patriot was selected to provide materials testing and engineering services for facility construction. Due to the nature of the work to be conducted at the completed facility, meeting regulatory requirements was paramount throughout construction. To facilitate efficient regulatory compliance and achieve the high-quality standards required on this project, Patriot provided an on-site materials testing laboratory and a full-time project manager throughout the project.
Patriot's Responsibilities Included:
Auger cast pile inspections
Soil field density testing
[CSH1]
Concrete compressive strength testing
FF/FL testing
Structural steel fabrication shop and field testing
Fireproofing and masonry testing.
Patriot was a part of the project's Quality Team, formed by the owner, that also included the general contractor, program manager, architect, and engineer. This group met weekly to discuss and resolve any quality issues on the project. Safety was of primary consideration throughout the project, as the owner was very safety conscious. Each morning before beginning work, all Patriot employees and other on-site workers completed a detailed checklist of potential safety hazards that could be encountered while performing that day's work.
Today, the biotechnology research and development complex structures known as K360/K361/K362 are home to an essential part of Eli Lilly's biopharmaceutical business.
Reduce Costs, Decrease Risks, and Improve Outcomes