Skip to Content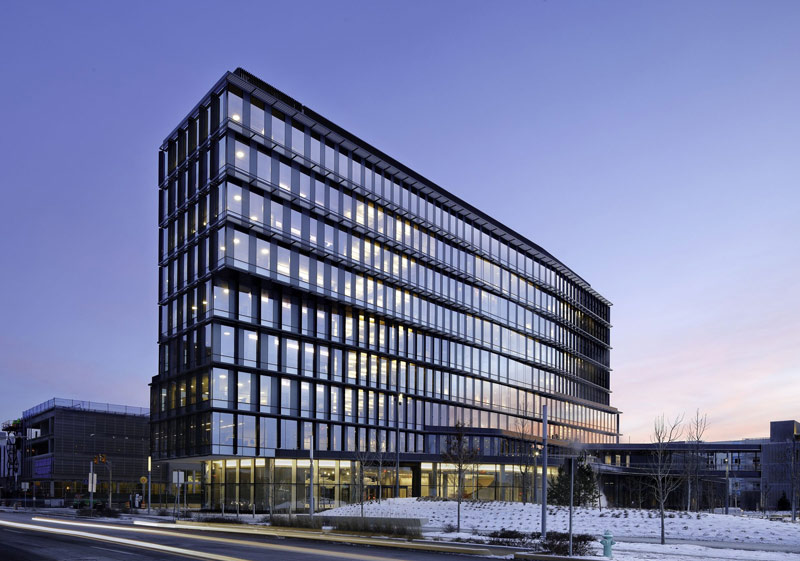 Indianapolis, Indiana
Cummins, Inc. is a global leader in engine manufacturing and related technologies. Headquartered in Columbus, Indiana, it is one of the largest companies in Indiana and the nation. Worldwide, Cummins employs more than 50,000 people and services 190 countries and territories. In 2016, Cummins initiated the construction of a new Distribution Business Unit headquarters in downtown Indianapolis. With 400 employees, the new Distribution HQ supports integrated coordination of the company's 7,000 sales and service locations around the globe.
The new facility is situated on four acres at the southeast corner of East Market Street and North Alabama Street. The facility includes:
A nine-story tower with 179,000 sq. ft. of flexible open office space
A first-floor lobby and 17,000 sq. ft. of retail space
A second-floor learning and conference center
A large, outdoor, public plaza to welcome employees and visitors
A two-level underground parking garage
Patriot was selected to provide geotechnical engineering services to support the pre-construction design of the building.
Patriot completed a pre-construction geotechnical investigation and risk assessment of the property to fully characterize the subsurface. Specific tasks included:
Review of previous soil borings performed near the project site
Drilling and inspection of twelve (12) soil borings at the site
Soil testing at Patriot's Indianapolis laboratory to determine the engineering characteristics of soils encountered in the borings
The findings of the subsurface analysis and soil testing were presented in a geotechnical engineering report along with recommendations for design team consideration. The new Distribution HQ opened in 2017 and is continuing the Cummins leg.
Reduce Costs, Decrease Risks, and Improve Outcomes