Skip to Content
Blue Buffalo Pet Food Plant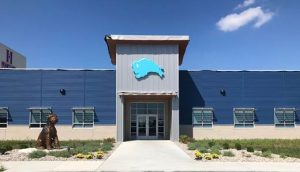 Richmond, Indiana
Blue Buffalo, the nation's largest natural pet food brand, recently increased their production capacity by building a 400,000-square-foot manufacturing facility in Richmond, Indiana. The plant, located on 125 acres in the Wayne County Midwest Industrial Park, is a state-of-the-art facility built on a shallow foundation with slab-on-grade construction and structural steel framing. Patriot was selected to join the construction team and provided a full range of services including Geotechnical Engineering, Environmental Services, and Construction Materials Testing and Engineering. Over four years and from preconstruction through construction and to operations, Patriot worked closely with the general contractor, design team, plant management, and plant personnel.
Pre-Construction Services
Patriot conducted Geotechnical Engineering and Environmental Services at the site prior to the commencement of construction. The environmental services included a Phase I Environmental Site Assessment (ESA) to determine if any potential environmental concerns were associated with the site. Patriot also completed a wetlands assessment to determine if any jurisdictional wetlands were present at the site.
Patriot completed a pre-construction geotechnical investigation and risk assessment of the 125-acre property to fully characterize the subsurface. The design team used the investigation findings, along with Patriot's recommendations, to optimize the facility design.
Construction Services
Patriot provided ongoing Materials Testing and Engineering support throughout the construction period. Patriot tested and monitored numerous materials including:
Shallow foundations
Soil compaction testing for fill and backfill
Reinforced concrete
Structural steel
The facility was designed to include robotics operations that require precise floor flatness and leveling. Patriot performed a continuous evaluation of the floors to ensure these criteria were met.
Operations Services
In preparation for plant operations, Patriot obtained a pre-construction Part 70 FESOP air permit to install and operate for Blue Buffalo plant. Patriot also provided air permitting implementation assistance throughout the various construction phases to optimize the permitting category for the plant. The new Blue Buffalo plant boasts a best-in-class hygienic design that exceeds industry standards in food safety and product quality. The plant's production capacity is staggering – more than 1 million pounds of dry dog and cat food per day. It also employs nearly 200 people. Patriot is proud to have helped Blue Buffalo obtain such a superior facility and be part of generating new jobs for the Richmond area.
Reduce Costs, Decrease Risks, and Improve Outcomes