Skip to Content
Terre Haute, Indiana
This project involved the construction of a 5-story (Plus mechanical penthouse) New hospital facility. The footprint of the new hospital covers approximately 180,000 square feet supported upon a full-basement level. Patriot engineering served the owner, Union Hospital, INC. Throughout the project. Patriot engineering served as the geotechnical engineer of record for this state-of-the-art medical facility. Special considerations included seismic concerns, construction adjacent to existing medical facilities, the old hospital, and city streets, with loose surficial sands adding to the challenges. Heavy structural loads also had to be considered in regard to the support of the structure given the typically loose to medium dense alluvial soils associated with the Wabash River valley feature.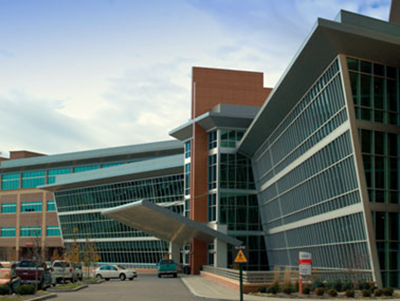 Quality Control Testing & Inspections
Patriot engineering also served our client through quality control testing and inspection efforts throughout the project. During auger-cast piling installation, Patriot installed strain gauges in test piles to evaluate the empirical load design and ultimately reduced pile length. Through this collaborative effort between Patriot's geotechnical and construction engineers, cost savings were created for the client, as well as an expedited project schedule. Construction testing & inspections included auger-cast pilings, driven-pile retention systems, structural steel, lightweight slabs-on-deck and conventional concrete foundations, shear towers and walls, earth backfill, vibration monitoring, spray-applied fire-resistive materials, and moisture-emissions testing (Flooring). Patriot completed the construction-phase services in approximately 22 months, building a strong relationship with our client and the entire construction & design team.
Reduce Costs, Decrease Risks, and Improve Outcomes