Skip to Content
Seymour, IN
The original Schneck Memorial Hospital was built in 1911 as a 17-bed facility in Seymour, Indiana. Over the next 100+ years, the non-profit organization flourished to become the leader in healthcare for southern Indiana. Today, Schneck healthcare serves the people of Jackson, Jennings, Scott, and Washington counties with emergency, urgent, and primary care services, pediatrics, surgery, a cancer center, a rehab facility, and other medical specializations.
In 2017, Patriot was engaged to assist in the construction of a new Schneck Medical Center in Seymour, Indiana. Patriot provided Construction Materials Testing and Engineering (CME) services throughout project construction.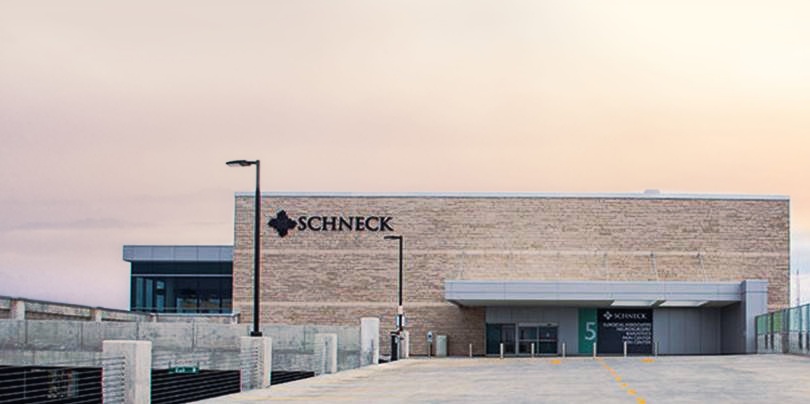 Project Specificiations
The construction consists of a five-story, 80,000 square foot (sf) medical office building, a parking garage, surface parking lots, and other site work. In addition to clinical areas on all floors, the building includes lobbies, greeter stations, and conference rooms.
The project used a Cobiax voided flat slab system, an innovative construction system that utilizes void-forming modules cast from recyclable material and filled with air within an elevated slab system. The Cobiax system provides the same stability and stiffness achieved from traditional solid slab construction techniques while requiring less material and time to install. The Schneck Medical Center was the 10th project in the U.S. to be built with the Cobiax system.
CME Services
Patriot provided CME services during the building's substructure and superstructure construction, including:
Substructure: proof-rolling observations, soils laboratory testing, nuclear field density testing, foundation observations, reinforcement steel observations
Superstructure: reinforcement steel observations, post-tension (PT) elongation monitoring and documentation, plastic and hardened concrete testing including nitrate testing
Patriot was an integral part of the quality assurance team that was formed to ensure the timely and accurate reporting of the compressive strength breaks for use in decision-making for erection and form removal tasks. Other CME services requiring special attention and expertise included:
Concrete testing services to meet the need for timely strength test reporting as a contractor decision-making tool
Masonry special inspections with mortar and grout testing
Structural steel special inspections with bolted and welded connections
Patriot also provided asphalt monitoring and testing services as the outside paved areas were completed at the facility.
Schneck healthcare's dedication to improving the health of the communities they serve earned the organization the Malcolm Baldrige National Quality Award – the highest recognition for performance excellence in the nation. Patriot is proud to help this southern Indiana organization continue to thrive along with the Hoosiers they serve.
Reduce Costs, Decrease Risks, and Improve Outcomes