Skip to Content
Dayton, OH
The National Museum of the United States Air Force is located at Wright-Patterson Air Force Base in Dayton, Ohio. The largest military aviation museum in the world, the USAF Museum has more than 19 acres of indoor exhibit space featuring 350+ aero space vehicles and missiles, thousands of USAF artifacts, plus outside exhibit areas. A partial list of the Museum's features includes:
Early Years Gallery
World War II Gallery
Korean War Gallery
Southeast Asia War Gallery
Cold War Gallery
Missile Gallery
Space Gallery
Research & Development Gallery
Global Reach Gallery
Presidential Gallery
Air Park
Memorial Park
Truly, the USAF Museum is a treasure to be protected and appreciated by a grateful nation.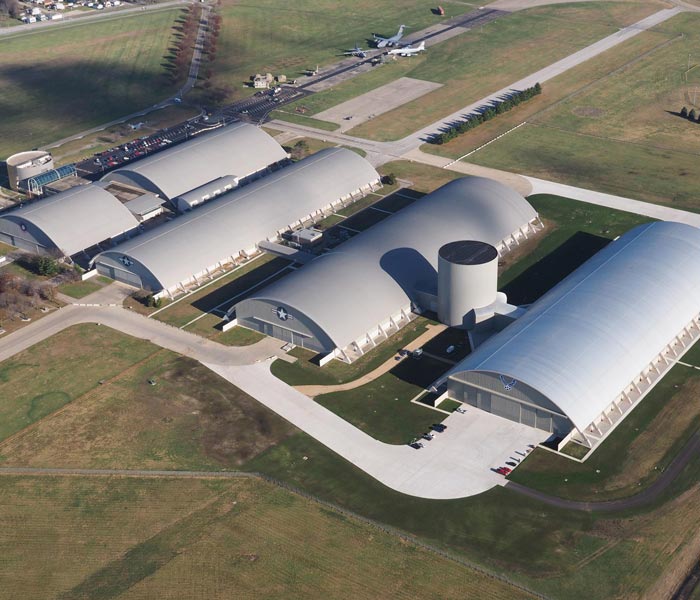 Museum Expansion
In 2015, a fourth hangar was added to the Museum to expand the facility's exhibit capacity. The addition was privately financed by the Air Force Museum Foundation, a non-profit organization that assists in the development and expansion of the museum's facilities and offerings.
The construction team was led by Jim Baize and Baize Corp, a City of Indianapolis-certified Veterans Business Enterprise and a federally-certified Service-Disabled Veteran-Owned Small Business. Jim is a two-time recipient of the Purple Heart for his heroic service during the Battle of Iwo Jima during World War II. Patriot was honored to collaborate with Jim and the Baize Corp for the USAF Museum expansion project.
CME Services
Patriot provided Construction Materials Testing and Engineering (CME) services for the project. The testing and monitoring services conducted throughout construction included:
Concrete thickness
Concrete testing
Asphalt testing
Reinforcing steel observation
Bolting inspections
Roofing observations
Other special inspections as required
All testing conformed to the rigorous specifications of the U.S. Army Corps of Engineers (USACE), including applicable ASTM and ACI requirements. Concrete tests were performed at Patriot's USACE-certified lab in Dayton, Ohio.
The new Hangar #4 exhibit space opened to the public in 2016. Patriot is proud to have participated in this collaborative project on behalf of the USAF and the nation.
US Air Force Museum Photo Credit: McKenrick Lee Photography
Reduce Costs, Decrease Risks, and Improve Outcomes