Skip to Content
Plainfield Fire Station #123
Plainfield, Indiana
This 4.4 million dollar project consisted of a 23,000 sq. ft., 2 story, 4 bay station which incorporates a 3-story tower for ladder/rope training and also facilitates confined-space safety training. This state-of-the-art facility is capable of supporting up to 16 firefighters and associated equipment. Located at 400 Airtech Parkway in Plainfield, Indiana, Patriot Engineering represented the owner for the specified testing and inspection services.
Our services consisted of dewatering observations for the partial basement excavation, spread footing excavation and backfill material selection recommendations, compaction testing of the grade raise fill for the bays, and observations of a glycol heating system installation for the bay areas of the project. Patriot also provided our typical cast-in-place concrete testing and reinforcement steel observations for the footings, slabs, and basement walls along with Portland Cement concrete paving, concrete testing for a significant amount of concrete aprons.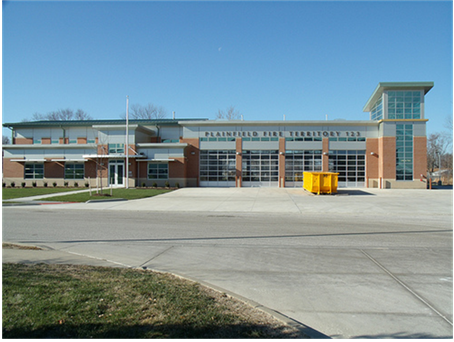 Specialized Design
A dual bay door system was designed for this project so that the fire and rescue equipment would never need to back in for storage.  Special inspections were performed for the masonry shell, and interior walls along with structural steel testing and inspection for the skeleton were provided.  Special care was taken regarding the field welded reinforcement steel for connection between masonry lintels and the steel skeleton for the large window openings along with welding of galvanized steel inspection for the clip to skeleton connections for the panelized metal skin.
Reduce Costs, Decrease Risks, and Improve Outcomes