Skip to Content
Indiana State Police Regional Laboratory
Ft. Wayne, IN
The Indiana State Police Post for District 22 is located in Fort Wayne and serves 18 counties in northeast Indiana. In 2020, preconstruction activities kicked off for a new laboratory for forensic analysis of criminal case evidence. The lab is a two-story 40,000-sf facility built with steel frames on shallow foundations.
Patriot was selected to provide environmental services during preconstruction to address an underground storage tank (UST) area at the site. Patriot then provided construction materials testing and engineering services throughout the construction period.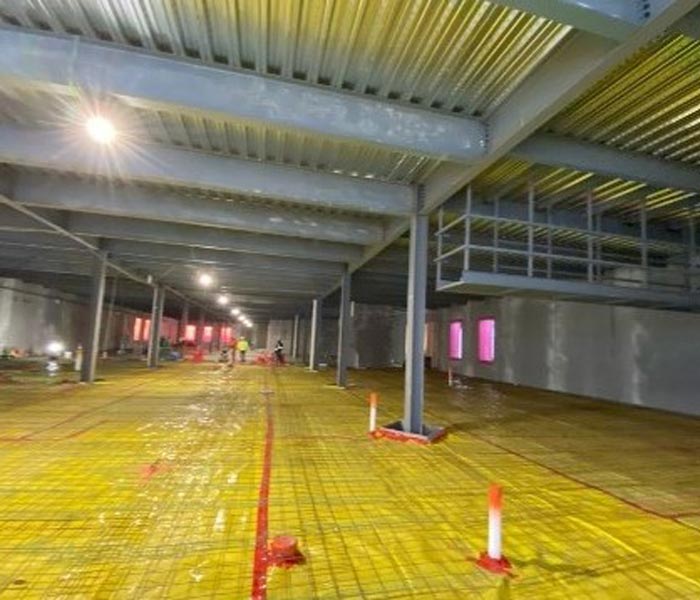 Environmental Services
An existing fueling station was present in the planned construction area of the site. During the removal of the USTs, Patriot conducted confirmation soil sampling of the floor and walls of the tank pit. Patriot submitted the samples for laboratory analysis for organic and inorganic compounds. Patriot provided a report of findings with recommendations for closure based on a comparison of the soil analysis results with the Indiana Department of Environmental Management closure criteria.
Construction Materials Testing & Engineering
Patriot conducted continuous monitoring and testing of numerous construction materials as the project proceeded. The testing and monitoring were conducted for:
Shallow foundation-bearing soils
Building and pavement subgrade soils
Soil and aggregate compaction testing for fill and backfill
Reinforced concrete
Structural steel including welded and bolted connections, deck attachment, and shear stud connection for composite decking
Precast concrete panel welded connections
Masonry mortar and grout
Hot mix asphalt including in-place observation and density testing, and laboratory testing for extraction and gradation
Floor flatness and levelness testing of concrete slabs
The new state-of-the-art laboratory was completed in 2021 and now provides crucial evidence analysis services for all local jurisdictions within District 22.
Reduce Costs, Decrease Risks, and Improve Outcomes