Skip to Content
Dayton, Ohio
Patriot provided on-call testing services to the City of Dayton for road projects. This demanding work included deploying, testing, inspecting, and returning to the laboratory with samples safely and efficiently, every time. The Patriot certified technicians have performed this work in all types of weather, traffic conditions, and times of day and night to accommodate the work schedule and pace of the construction crews. The timely reports that Patriot issued to the City provided vital information to the engineers as to whether a roadway were ready to open to traffic, whether a bridge pier could support a new load without the aid of temporary construction shoring, and other vital quality assurance measurements.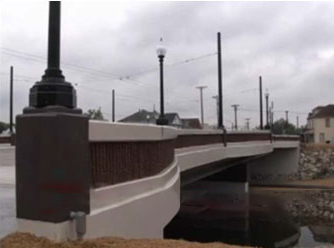 Efficient & Cost-Effective
The Broadway Street Bridge was a $2.4 million span over Wolf Creek and was one of nine bridges constructed by the City of Dayton in a decade-long, $53 million bridge replacement initiative. The two-span bridge is 180 feet long, with 10-foot wide sidewalks and pedestrian plazas at either end and in the middle. Construction was completed six weeks ahead of schedule and $125,000 under budget, according to city officials.
Reduce Costs, Decrease Risks, and Improve Outcomes