Skip to Content
Neil Armstrong Engineering Building: Purdue University
West Lafayette, Indiana
Construction began for this project in the summer of 2005 and was completed in the fall of 2007. The 53 million dollar, 210,000 square foot building dedicated to the Astronaut and Purdue Alum, Neil Armstrong,  houses more than 20,000 square feet for research labs and over 126,000 square feet for teaching, research, and administrative offices on four floors.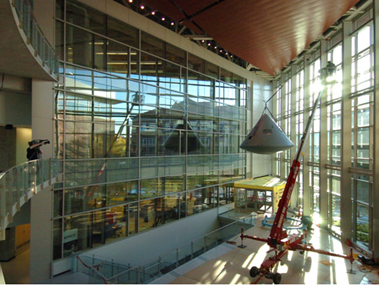 Engineering Meets Design
All conduits, ductwork, and chilled-water air conditioning system were left exposed in the ceiling to provide a sense of the engineering role in the vital functions of the building. The walkways in this building look down on an atrium that has a 53-foot high ceiling. A replica of the Apollo 1 command module is also be on display in the atrium. Patriot utilized a full-time senior-level technician on this project. Our scope for this concrete cast-in-place structure consisted of soil testing, reinforcing steel inspection, concrete testing, and structural steel inspection.
Reduce Costs, Decrease Risks, and Improve Outcomes