Skip to Content
IPFW Parking Garage No. 3
Fort Wayne, Indiana
This project consisted of the construction of a new parking garage on the north side of the existing Indiana University – Purdue University Fort Wayne (IPFW) campus, to be known as Parking Garage No. 3. Parking Garage No. 3 was designed to be a 4-elevated tier parking structure with a bottom floor. The main superstructure and tiers were designed to be cast-in-place concrete, with all of the tiers post-tensioned. Post-tensioning consists of allowing the recently placed concrete for each tier's slabs, beams, and girders to reach a minimum compressive strength then tensioning the interwoven post-tension tendons to a specified pressure and elongation. The tensioning is performed in order to "pull" the slabs, beams, and girders into a state of compression rather than tension, thereby removing the need for additional support of the tiers and creating an open parking garage floor plan.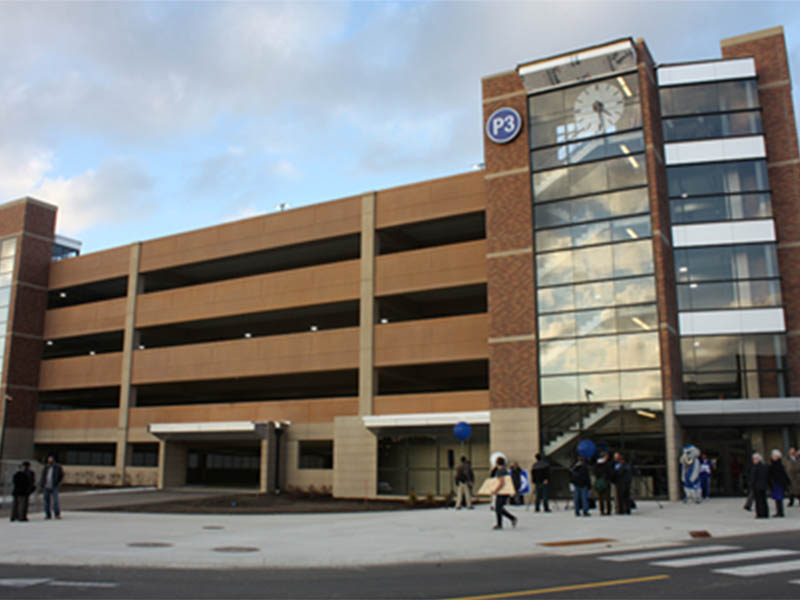 Patriot Was Integral to This Project
All of the post-tensioning of the slabs, beams, and girders were observed and tested during each concrete placement. Patriot tested each concrete truck's load for slump and air entrainment to ensure that all of the concrete was within the project specifications. Patriot's role also included testing of footing, column, and beam concrete for adequate compression strength. Our extensive experience with post-tensioning systems made Patriot Purdue's choice for this project which allowed for a smooth concrete placement from tier to tier.
Reduce Costs, Decrease Risks, and Improve Outcomes